Level-2 Trading Restrictions will be in place at all Bapcor locations from Monday 31st August
Auckland branches are once again open to customers with the move to level-2 restrictions in the region. In line with the government's requirements there will be contact tracing and social distancing in place at all sites. A reminder of the Level 2 restrictions can be found at the Ministry of Health website.
It is important to us that staff take care of their own health and safety, and the health and safety of others, while at work. All Bapcor staff have been asked to do their bit by following health and safety instructions, policies and procedures. We respectfully ask that all customers please cooperate with staff to uphold these safety procedures at all times:
✓ Staff/Visitors must sanitise their hands
✓ Staff/Visitors must maintain social/physical distancing
✓ Staff/Visitors must sign in using the NZ COVID Tracer App or via the manual process
✓ Staff/Visitors must not enter the branch if they are sick
These rules along with hand sanitiser app QR code and manual sign in sheet will be displayed on a table like the below, at the front entrance of all branches: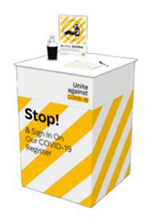 Physical distancing in branches
We require social/physical distancing guidelines to be followed within our showrooms, this means a space of between 1-2m needs to be maintained between customers.
Safe pick up locations established under Alert Level 3 will remain in place.
Thank you in advance for your cooperation. As a team of 5 million it is important that we all work together to beat Covid-19.