Submitted by

admin

on Sun, 01/05/2016 - 00:00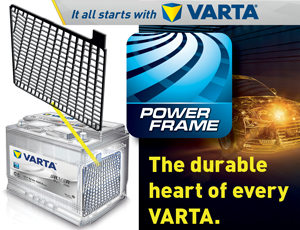 The performance and reliability benefits of VARTA automotive batteries, compared to conventional batteries are higher cranking capability and enhanced durability due to maximised energy flow and corrosion resistance. VARTA batteries also offer OEM quality build levels for an exact fit and finish with outstanding vibration and impact resistance plus proven reliability and cranking performance in highly demanding conditions.
Introducing the heart of every VARTA battery, the patented PowerFrame stamped grid technology, the lead based grids stacked vertically inside a battery to form cell groups. PowerFrame grids are engineered and manufactured by a unique process to last longer than conventional grids. Tests show up to sixty six percent more durability is on offer with PowerFrame compared to traditional grid designs. The energy flow across a PowerFrame grid is also more effective, up to seventy percent higher for exceptional engine cranking power on every start. More available power with enhanced durability by design reduces fatigue and means every VARTA battery offers outstanding reliability, exactly what is demanded in a battery from the world's car manufacturers.
PowerFrame grids are manufactured from a single sheet of lead based material, precisely rolled and stamped to tight tolerances in the 0.1mm range. This provides the advantage of an exact pattern with every stamping, highly accurate compared to traditional grids that are cast into shape from molten material. This offers an exact pattern and precise grid thickness for lower resistance and optimal electrical conductivity and does not fatigue the frame compared to other manufacturing methods.
Four of the most frequently asked questions of VARTA PowerFrame technology -
Why is the positive grid so important for batteries? How does PowerFrame grid technology help?
The positive grid provides the energy to start a vehicle, a critical component of the battery, start after start. The most common end-of-life failure mode of automotive batteries is corrosion of the positive grids. Positive grid corrosion will occur over time, especially in high-heat environments, as a result of the charge-discharge cycles a battery experiences. PowerFrame grid technology is structurally strong and it's robust design minimizes corrosion and premature failure.
How do I know that a battery with PowerFrame grid technology is superior?
PowerFrame grid technologies are tested by VARTA in the toughest real-world conditions: in taxis, police vehicles, high use passenger cars and trucks around the world.
Extreme heat and stop-and-go driving are two of the most demanding applications a battery can face during its lifetime, which makes high heat desert taxi fleets the ideal test environment for battery performance. VARTA batteries with PowerFrame grid technology are documented to regularly outlast other manufacturers' batteries in head-to-head Las Vegas taxi fleet studies, one of the most grueling battery test environments in the world.
What makes PowerFrame grid technology different from other grids in other batteries?
PowerFrame grid technology is the latest manufacturing technologies. PowerFrame grids are made by rolling the lead based material metal into long thin strips that are then stamped into the grid shape. The process is continuous and provides the greatest flexibility for power optimization. Looking under a powerful microscope, the rolling process elongates the metal's grain structure, which helps resist corrosion and provides strength even under extreme conditions. Other grid technologies, namely cast and expanded metal, produce grain structures more susceptible to corrosion.
How is PowerFrame grid technology said to be more environmentally friendly?
Varta's patented PowerFrame manufacturing process uses 20% less energy and releases 20% fewer greenhouse gas emissions than other manufacturing methods.
In 2006, the PowerFrame grid technology process received the 2006 Clean Air Award from the Amercian EPA for the reduction of CO² in the air.
The VARTA brand has enjoyed a 125 year international history. Today VARTA batteries are factory-fitted by major manufacturers. Close collaboration with brands such as Audi, BMW, Ford and Mercedes Benz led JCI to develop VARTA's Silver Dynamic and Blue Dynamic batteries, meeting the power needs of both high-performance vehicles and the every demanding technical requirements of Start/Stop functions.
The aftermarket advantages of these European OEM partnerships is expertise, technology advances and proven reliability across the entire VARTA range. JCI is the driving force behind fuel-saving innovations such as Start/Stop engines and electrical systems. This year, approximately 70% of all newly manufactured vehicles, regardless of car segment and class, include Start/Stop functionality.
All VARTA batteries benefit from the patented PowerFrame technology, offering exceptional engine cranking performance and durability for a long life. VARTA batteries carry a 2 year warranty and are supplied and supported by HCB Technologies nationwide. For VARTA range information please click here.